Get your pupils understanding, speaking, reading and writing in French with this innovative language learning series that enables learners to meet the objectives of the Key Stage 2 Framework for Languages.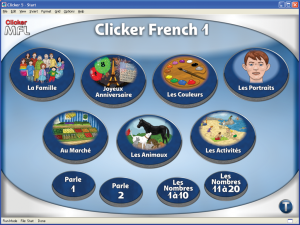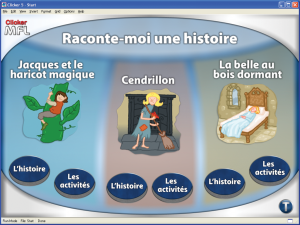 Learn essential vocabulary and structures
There are three titles in the Clicker MFL: French series: French CD 1, French CD 2 and the French Stories CD. On each CD, pupils take part in a range of Clicker activities that involve active listening, speaking, reading and writing. Children are initially introduced to key words and sentences, which they then actively engage with in a range of corresponding activities. The activities build from simple reinforcement exercises to more open-ended comprehension activities as the pupil's knowledge develops.

Build language skills through listening and speaking
French language learners are given frequent opportunities to listen to real speech (recorded by a native French speaker) and to record their own efforts. The authentic French voice offers a clear language model and the pop-up sound recorder enables children to try out simple words and phrases as many times as they like, and then replay their own voice. Saving these recordings provides teachers with markers of each child's progress and achievement.

Develop confidence in reading and writing
As children use Clicker French, they are supported by the award-winning Clicker features that teachers have come to know and trust. Children are offered visual and/or aural models to help them compose their sentences and their work is read back to them as in other Clicker products. This encourages children to review their own writing and compare their work to the model in order to assess and improve their own performance.

Feel assured and inspired!
As part of Clicker French, you also have access to a complete set of corresponding teaching notes. The teaching notes summarize the aims of each activity and translate all the key vocabulary and activities covered into English, ensuring that you are confident working with the material. You also have the option to print copies of any of the activities as a record of completed work, or for paper-based activities away from the computer.

Create / extend your own activities
Extension ideas for each activity are also included to further cement learning and engage your pupils. Alternatively, make use of our range of easy-to-use French templates, complete with a top quality French voice, a fully translated graphic library and a French spell checker, and create your own made-to-measure activities. From simple writing grids to talking books – it's as easy as un, deux, trois!