Clicker is the proven reading and writing tool that helps pupils of all abilities to achieve success in reading and writing. Clicker is used on over half a million school computers and in over 90% of UK primary schools.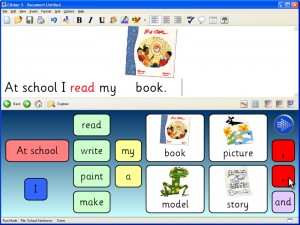 Boost writing independence with Clicker Writer
Clicker's word processor comes with a child-friendly font, simple tools, and fantastic quality speech that motivate children so they want to write!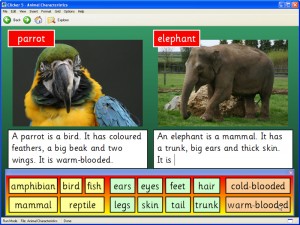 Most word processors are designed for literate adults. Clicker Writer is designed for children who are learning to read and write. It will grow with your pupils as they develop their skills, making it the ideal word processor for the classroom. Pupils type into Clicker Writer from the keyboard, or use Clicker Grids to enter words and pictures, so you really can use it across your age and ability range.
Amazing quality speech
Clicker Writer helps learners find and correct errors and grow in independence and confidence by providing automatic speech feedback as pupils write. Each sentence is automatically read out as it is completed, with every word clearly highlighted as it is spoken, enabling learners to follow the text and review what they have written. Research shows that this active engagement with text encourages pupils to find and correct errors for themselves.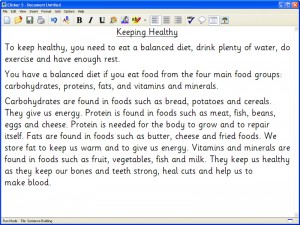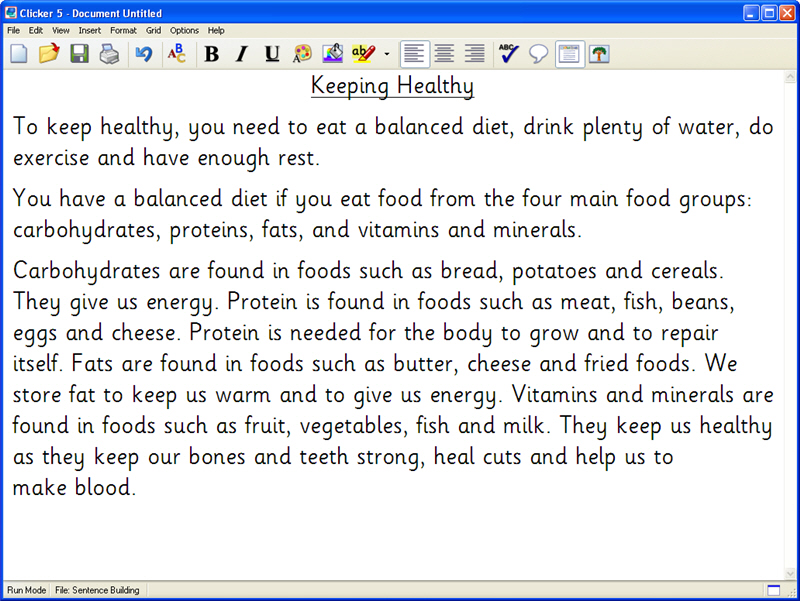 Write with pictures
When you're using pictures from Clicker Grids, or the 'Instant Pictures' feature, pictures are displayed above the words as you write, helping pupils to read their writing. Use pictures from the Crick Picture Library that comes with the program, or use other picture libraries such as the Mayer Johnson PCS symbols, or your own bank of photos.
Child-friendly font
The child-friendly Sassoon font displays letters in the familiar form that children learn to write. This makes words and letter patterns easier to recognise for early readers.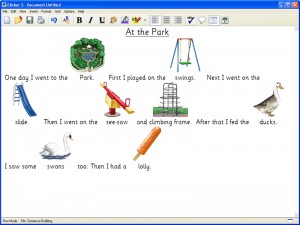 Easy-to-use tools 
Clicker Writer's tools use the standard icons that pupils need to become familiar with. By default they are displayed at a larger size, making them ideal for early writers. The toolbar is fully customisable, so you can adjust the size of the tools and display just the ones you want your pupils to use.
Speech in Clicker Writer
Research shows that active engagement with text encourages pupils to find and correct errors for themselves. This is exactly what is achieved with Clicker's clear British English speech. By default, each sentence is automatically read as it is completed. This encourages pupils to punctuate their work, and ensure that they review each sentence before starting the next one. This helps pupils take responsibility for their writing, and make corrections as they write. For those needing more support, each word or letter can be read as it is entered, giving pupils instant feedback. Any combination of the options can be used to give the optimum settings for individual learners. In addition, pupils can hear any section of their writing by using the speech tool in the toolbar.
Clear Highlightning
Words are clearly highlighted as they are spoken, enabling students to follow the words in Clicker Writer as they are read.
Speech in Clicker Grids
Pupils using Clicker Grids to enter whole words may need to check the word they are about to use before they write. A simple right-click (Mac: Ctrl-click) reads the word out to them. This allows pupils to find the right words for themselves, and encourages them to use more adventurous vocabulary, boosting their confidence as they develop their ability to write independently.
Sentence building grids
Sentence building grids typically contain all the words required to build a sentence. Some cells may also contain pictures to help pupils identify words, and all cells have speech on right-click so the user can hear the word before they write it.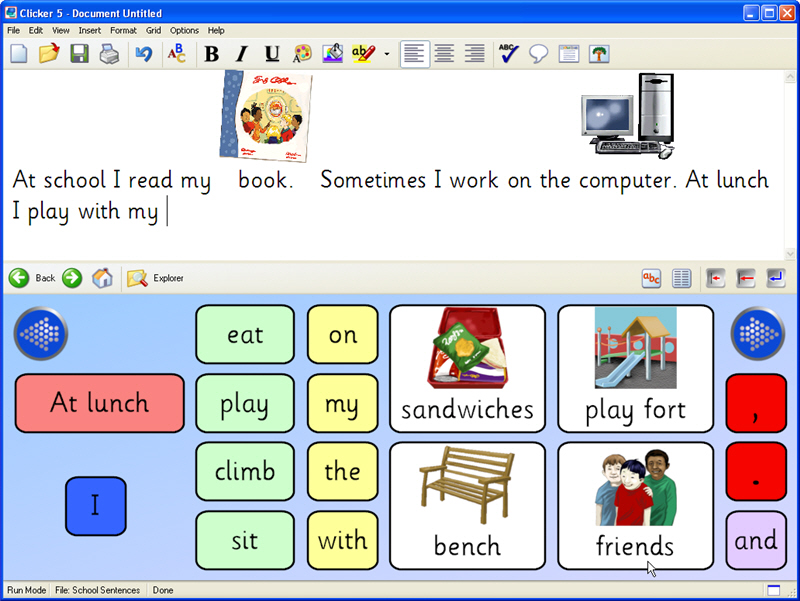 Clicker grids like this enable emergent writers to get the satisfaction of building a sentence for themselves. Their success motivates them to try more sentences, and soon they develop into independent writers. Sentence grids are usually linked, so when a sentence is completed, the user clicks the forward arrow to move to the next grid in the sequence, to write the next sentence.
As they move through the series of grids, the text in Clicker Writer grows, giving pupils the satisfaction of creating a significant piece of writing. The words in the grid can be colour coded to define parts of speech. In addition you can offer a visual or aural model for the pupil to copy, or use a 'forced order' template to encourage left to right directionality.
Word bank grids
Some pupils who can spell out most words using the keyboard may still need help with the more difficult words, or they may need encouragement to broaden their vocabulary. Clicker word bank grids provide instant access to any number of words.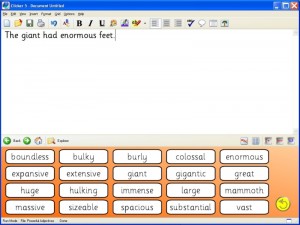 Word bank grids can be linked with forward and back arrows or via a simple menu system. All words can be previewed with a right-click (Mac: Ctrl-click), which reads the word out.
Writing frames
Many pupils find it difficult to structure their writing, especially when writing in a genre that is new to them, e.g. a set of instructions or writing up an experiment. Writing frames provide scaffolding to help pupils achieve well-structured writing.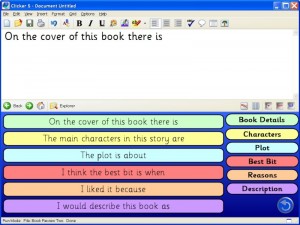 Clicker Grids are the perfect vehicle for writing frames. They provide sentence or paragraph starters, subject-specific vocabulary, and other supporting phrases.
Clicker talking books for reading
Clicker talking books provide an exciting opportunity for both reading and writing. There are lots of ready-made books available, and it is incredibly easy to create your own using digital photos and your own voice. You can even add video!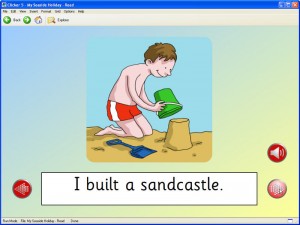 Children need lots of exposure to books as they develop their literacy skills, and Clicker talking books are an important ingredient in the range of reading materials in your classroom. Clicker talking books give you the following benefits:
They are very accessible – just a forward and back button to turn the pages and a speech button to hear the text.
They can use either digitised speech or a real sound recording.
Pupils are able to read the books independently.
Books can be combined with supporting comprehension and writing activities
Clicker talking books make great centrepieces for your whiteboard lessons.
Personalise your reading materials by creating your own Clicker talking books – you can do it in just minutes! Drag and drop in digital photos from the computer or directly from your camera and then record your voice using Clicker's built-in sound recorder. Add text, or leave it as a picture book. It's easy to drop in video too.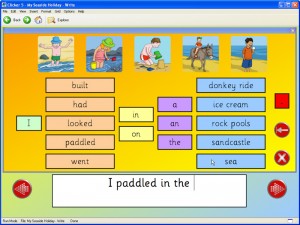 Make books about your class or about a recent trip. Create personal books for individual pupils containing pictures and voices from their family. Create books on the fly with a group of pupils – making Clicker talking books is a simple yet innovative way to give pupils new experiences in reading and writing.
System Requirements
Windows:
Windows 2000, XP, Vista, Windows 7
Clicker 5
Mac:
Mac OS X 10.4, 10.5, 10.6
Clicker 5
Networks:
To purchase for a network, simply buy the single-user product, then add the number of additional user licenses required (choose the 30-user bundle for best value). The CD includes a network installer, together with full instructions.