Support learners with special literacy or communication needs by using Clicker with your choice of three highly-regarded symbol sets.

At Rehasoft we are really passionate about providing software that enables pupils of all abilities to achieve success. To that end, we have partnered up with Cricksoft and the world's foremost symbol providers to offer you a choice of the very best symbols, specially formatted to work seamlessly with one of our most popular products, Clicker.
The following symbol libraries are available:
Symbols provide reading and writing support for people with a variety of learning needs. Many different people benefit from working with symbols, including those with special needs, early learners and those who do not have English as a first language. Each symbol focuses on a single concept and there are symbols for practically all commonly used words.
Symbols provide vital support to those that require it, enabling learners to:
communicate more easily and effectively
build their confidence
develop greater academic independence
better understand and use given information
Each of the symbol sets we provide makes a perfect partner for Clicker when it comes to supporting learners with special literacy or communication needs.
Use Clicker with symbols to support pupils with special literacy or communication needs as they take part in reading, writing and communication activities.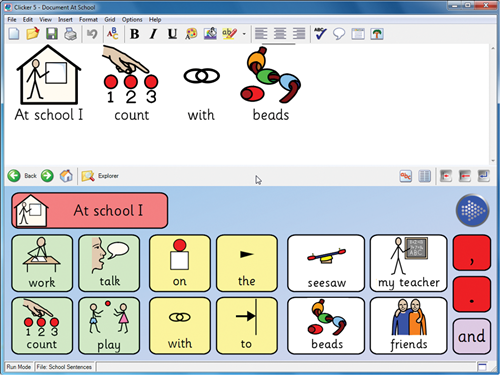 Clicker and symbols
If you are using symbols, Clicker is the perfect tool to give easy access to them, whether you are using a mouse, touch screen or switches. Because it's so easy to add graphics to Clicker cells, you can create grids using any pictures you like, including symbols.
Combining Clicker with a symbols set enables you to create reading and writing activities that cater for pupils requiring symbols support. As Clicker is suitable for pupils of all abilities, the entire class are able to work on different versions of the same task, ensuring that those who need to use symbols feel fully included and involved.

Writing support

Use symbols in Clicker writing grids to help children develop their writing skills. Simply clicking on a Clicker cell containing a symbol sends the symbol into Clicker Writer. Clicker Writer displays both the symbol and the text, encouraging learners to make the connection between the words and the images. By listening to the recorded speech as it reads their work back to them, learners develop their understanding of the link between the symbols they see and the words they hear.

Communication grids
Creating your own communication aid is easy with Clicker grids. Because you are able to link together as many grids as you like, there is no limit to the number of symbols you can access. You are free to mix different types of symbols and other graphics on the same grid, and it is up to you whether or not to display text underneath them. And, of course, you are able to make changes to the grids whenever you need to.